previous                                                                                                                                                                                     next
---
Ralph in Poland
September 2005
Ralph Tatam was invited to give a presentation outlining the actvivities of the EPG at the International Congress on Optics and Optoelectronics held between the 28 August - 2 September 2005 in Warsaw, Poland.
Engineering Photonics: from nanoscale sensing to full-field interferometry
R P Tatam 
Presented at Optical Fibers II: Applications conference, part of SPIE's International Congress on Optics and Optoelectronics, Warsaw, Poland, September 2005. Published in SPIE Proc. 5952, 2005
The EPG expands its spoon collection
August 2005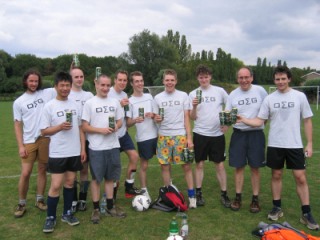 The EPG football team (aka Mongolia) continues to strive for mediocrity, gaining its 2nd wooden spoon of the year. Having lost heavily in the early rounds of the summer 7-a-side World Cup tournament, they gained a well deserved spot in the wooden spoon final. The Mongolians' reputation went before them, and the opposing team failed to turn up, gifting the spoon to the team. The England team, waiting for their match in the Shield competition, offered the Mongolian's a game, so that the time spent training and warming up was not wasted. It was then that the Mongolian's highest scorer of the tournament made his debut. Standing near the goals, smoking a cigarette, the mystery man was offered a game to try to even up the one-sided match. He scored two in quick succession and then disappeared for a pint. So much for training and warming up.